A lot of people  bought after metal laser cut machine from China, will be more worry about after-sale problems, concrete manifestation in:
1 received machine will not be used?
2 in use process, encounter problems how to deal with?
Behind these problems, there is actually a small plants not as a result of:
1 trading company, international after-sales personnel without professional training, there is no experience to complete after-sales service support.Even some small trading company, only a few simple sales personnel, not an independent international after-sales team.
2 in order to cut costs, the company sells products, there is only one after-sales personnel to solve the problem of all kinds of products.
3 after no specification standard of process of cnc metal cutting, every time what problems, never observes, contributed to solve the low efficiency.
If you buy sheet metal laser cutting machine from LXSHOW Laser,the above mentioned problems have never been happened. Let us know more about LXSHOW Laser After service team more:
Lxshow Laser can provide the following service for every customer:
1 We have detailed user manual with pictures and CD,you can learn step by step.And our user manual update every month for your easy learning if there is any update on machine.
2 24 hours on line service each day. free technical support. If have any problem during use,you need our technician to judge The problem elsewhere will be solved by us. We can provide team viewer /Whatsapp/Email/Phone/Skype with cam till all of your problems finished.
3.Free training course at our plant.
4.Provide technical services to the door(We have professional engineers to offer machine installation commissioning and maintenance)
LXSHOW laser after-sale features are:
1 huge after-sales personnel team, by the end of the 2020/5/12, led show have international after 10, and constantly in the process of recruitment and training of the elite, this is the after-sale guarantee efficient and fast.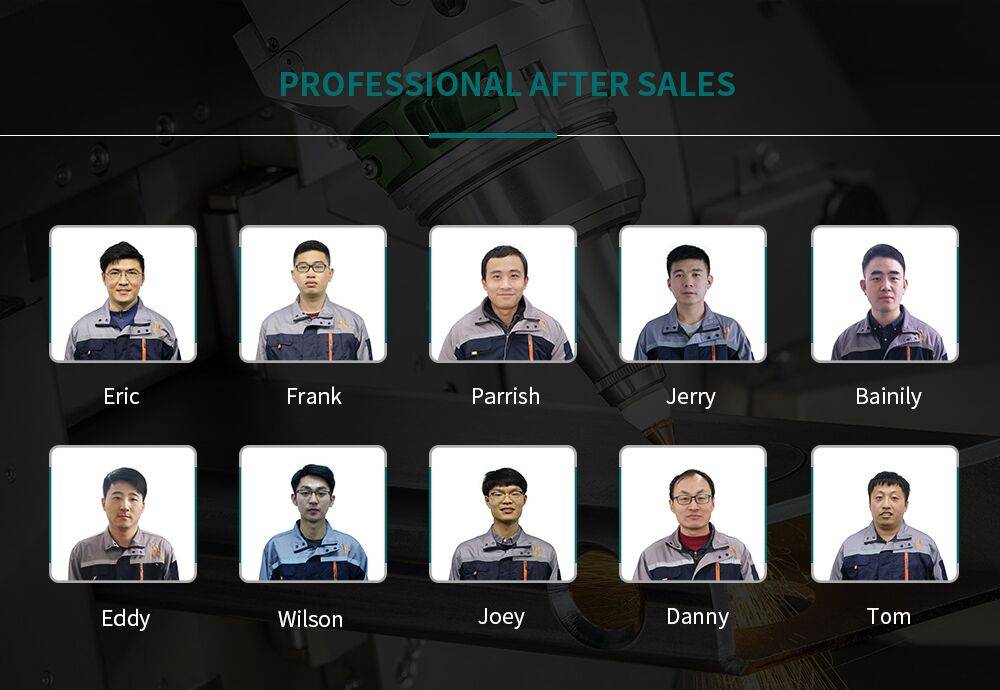 2 24 hours must reply to customer problems.After have strict management and assessment standard.Maximum return customers, help customers to solve the problem, is the aim of each after-sales service.
 
3 effective protection.Each after-sales personnel have their own good at processing models and problems, thus improve the efficiency of the after-sales problem solving.
 
4 after the process specification.Have a clear process for after-sales specification: see below.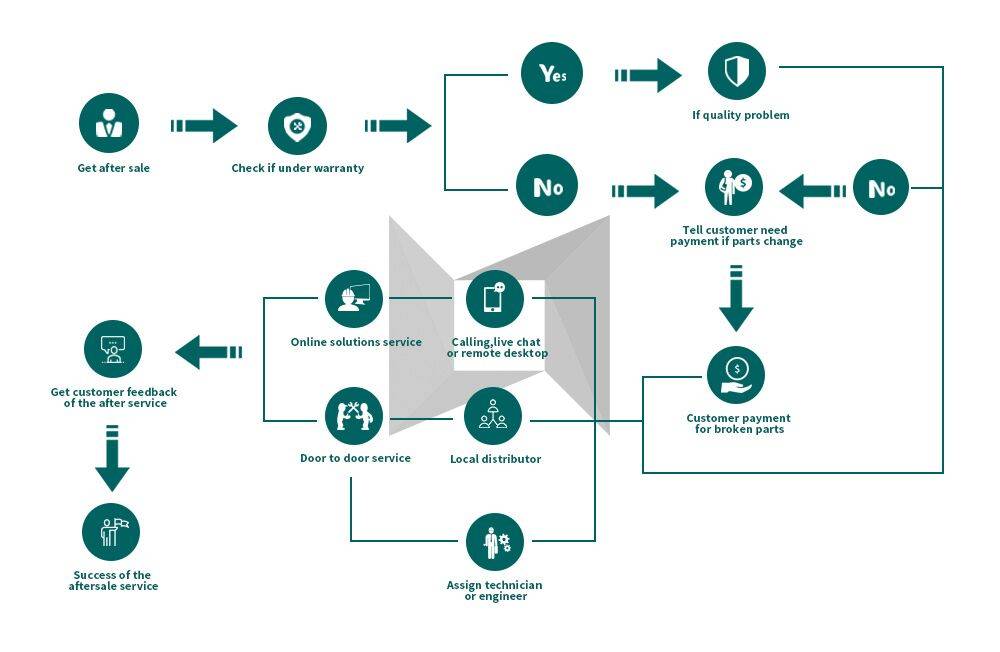 In the process of purchasing metal laser cutter, the product quality and after-sales service is essential to consider the price factor.Led show laser has been on this road is doing his best, to meet customer demand, help customers to solve problems.If you buy products in led show laser, any link has a problem, you can also write E-mail complaints: complaint@lxshow.net after-sales manager:Eric will immediately process your feedback any issues.
Jinan Lingxiu Laser,  
is established in July 2004 ,owns more than 500 square meters of researching and office space, more than 32000 square meters factory.All metal laser cut machines ,passed the European Union CE authentication,American FDA certificate and are certified to ISO 9001. Products are sold to USA, Canada, 
Australia, Europe, South east Asia, Africa etc, more than 150 countries and areas, and supply OEM service for more than 30 manufactures.
As the largest fiber laser cutting machine manufacturers of laser application and intelligent equipment development in northern China .Jinan Lingxiu Laser Equipment Co.,Ltd  is the leading brand in innovation and upgrades of cnc metal cutting equipment and it aims to provide high quality service in the global laser intelligence.
Since its foundation in 2004, LXSHOW Laser has always adhered
to the principle of Technology as the Foundation, Quality
First". With customer-center idea as its basis, it takes every
detail seriously in the process of production to ensure high
performance and quality of each fiber laser cnc equipment as well as the
stable operation in more than 150 nations around the world.
LXSHOW Laser takes Lvdi Xinduhui as its corporate headquarters. It has built plants successively in Jinan Pingyin, which provides an excellent basis
for arranging laser cut carbon fiber industry chain for the ultimate
purpose of offering stable and effective service of intelligent
equipment.
In the era of industry 4.0, LXSHOW Laser is striving to provide basic equipment and customized solution for the future
industrial production, also to help enterprises increase
productivity, thus making contributions to "Power metal cutting" and laser change the world.
---
Post time: May-12-2020